Deep cleaning the interior and pipe work of your spa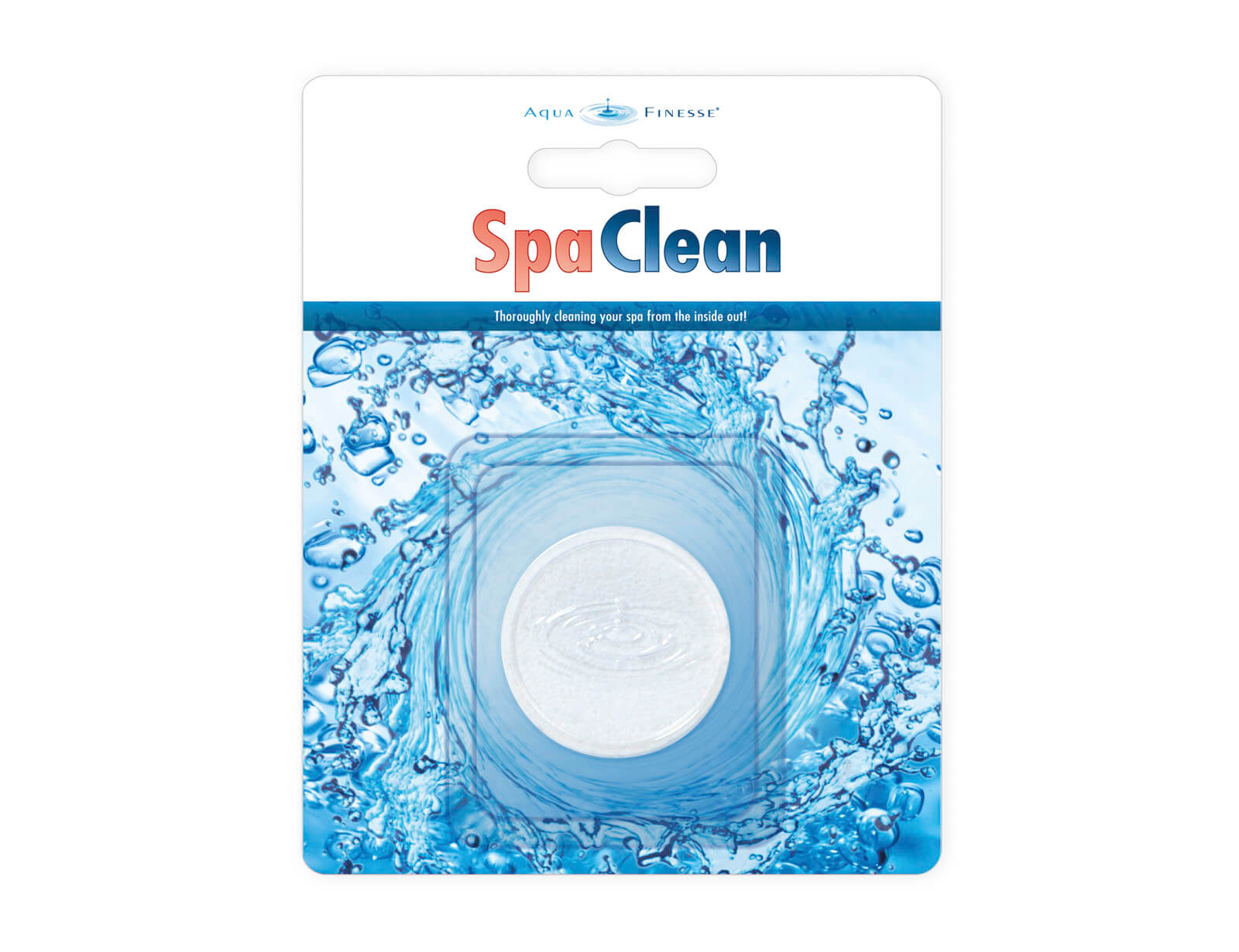 The first step when starting with the AquaFinesse Hot Water Care System.
A powerful hot tub purge that helps loosen and lift organic debris, scum and calcium that has built up over time in the spa plumbing, equipment and fittings.
Perfect for:
Deep cleaning the interior and pipe work of your spa during the 3 monthly water change over.
Also ideal for use when treating a new spa or swapping over from traditional sanitiser's to AquaFinesse
AquaFinesse Hot Tub Water Care Kit
In one simple weekly treatment our patented environmentally friendly formula gets to the root of the problem by continuously loosening organic debris from the surfaces, it is then rinsed away by the action of the water and and creates an environment that helps prevent organic debris from re-attaching to all surfaces. Result, a dramatic reduction in the levels of bacteria, needing only the minimal amount of sanitiser!
Even calcium, the notorious destroyer of spas, is no match against the power of AquaFinesse.

So there you have it
The perfect all in one solution, safe, clean and crystal clear water which protects the bathers, the environment and even the spa itself. Say yes to softer purer water and a cleaner bathing environment.Includes everything required for 3-5 months of spa maintenance.
Available with Dichlor powder or Bromine tablets.
Environmentally friendly, safe for your health and gentle to the skin.
Good water quality is dependent on a clean filter!
AquaFinesse Filter Cleaner
To maximise the enjoyment of your AquaFinesse hot tub water, it is essential to keep your filters clean, we recommend cleaning your filters at least once a week.
To assist you with this, we at AquaFinesse have developed a fast acting, environmentally friendly 'Fizz' tablet to keep your filter in optimum condition.
AquaFinesse The Dead Sea Experience
The Dead Sea contains a special mix of salts and minerals well-known for its therapeutic effects. For thousands of years now; people have been using the Dead Sea water to treat skin problems like eczema and psoriasis. But also to detoxify, improve their appearance and pamper themselves.
The unique power of the Dead Sea thermal salt springs comes from its salt and mineral content. AquaFinesse provides the perfect combination to explore the well-known characteristics of the Dead Sea in your own spa. The benefits of the patented AquaFinesse technology together with the therapeutic effects of the Dead Sea, all in one easy kit!
Content of the AquaFinesse Dead Sea minerals water care :
13.22 lbs – 6 kg AquaFinesse Dead Sea salt
2 bottles – 2L AquaFinesse formula
1 measuring cup
User manual
Experience the advantages of the Dead Sea Minerals in your own spa!
NOW AVAILABLE! A beautiful-nourishing body lotion enriched with Dead Sea minerals.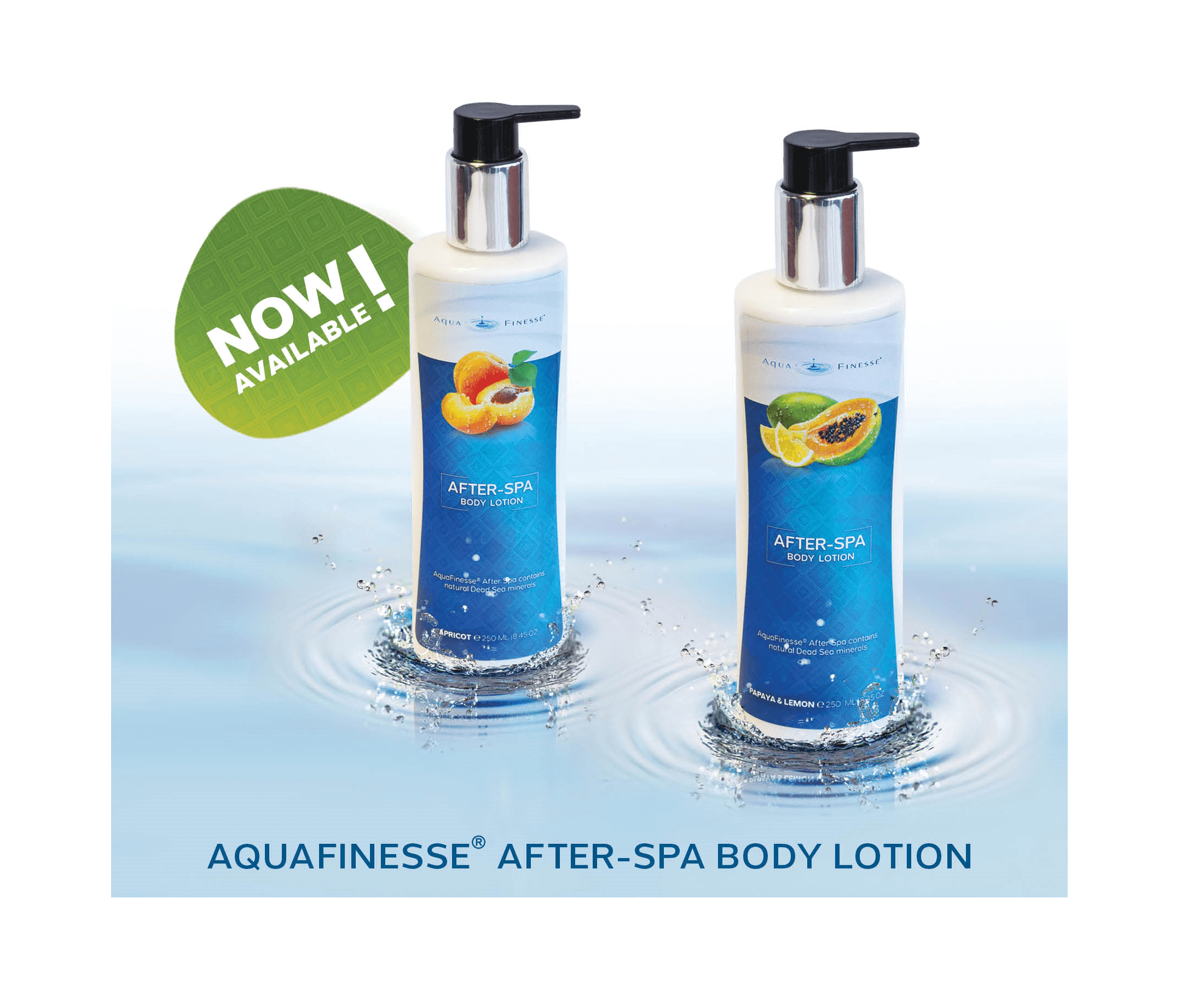 AquaFinesse After-Spa body lotion
AquaFinesse After-Spa body lotion contains natural Dead Sea minerals with their
well-known effects, perfect for all your skin care needs.
A nourishing and pampering body lotion enriched with the delicate, refreshing fragrance of Apricot or Papaya-Lemon. Gently massage the lotion on your skin, leaving it soft and totally moisturized.
AquaFinesse Swim Spa Water Care box
The first water treatment product made especially for Swim Spas!
A swim spa – is it a small pool or a big hot tub? It's neither.
A Swim Spa presents it's own unique water treatment challenges and AquaFinesse is the first to design a product to meet those challenges.
Because of the water temperature, larger surface area and exercising that occurs in a swim spa, biofilm build up, water mold and pink slime are common problems in Swim Spas. AquaFinesse will address these problems head-on.
Like all AquaFinesse products, The Swim Spa Water Care System is simple and easy to use, providing safe, clean, crystal clear and silk soft water.
How to use SWIM SPA WATER CARE: It's Easy!
You don't need any special preparation for your swim spa before starting with AquaFinesse for the first time. Just follow these simple steps and you're ready to go.
Swim Spa water care made easy!