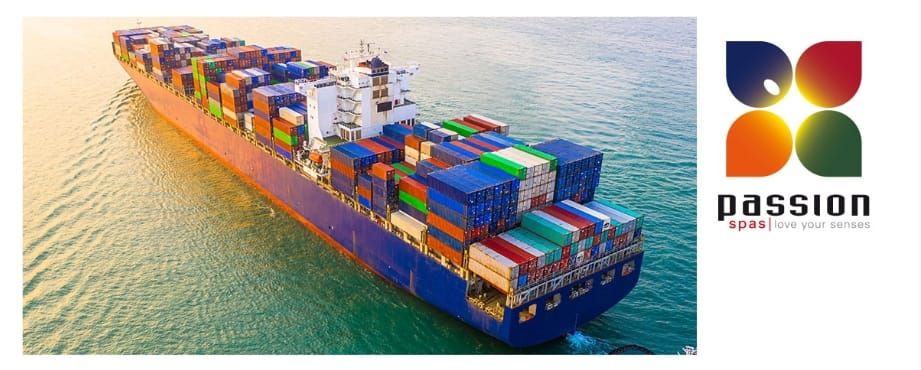 Dear client:
Due to the persistently high prices for overseas transport costs, we are forced to temporarily charge extra. This applies to spas from our Netherlands warehouse as well as container orders.
We have been able to absorb a lot of cost so far, but the expectation / hope that prices would drop after Chinese new year is not being fulfilled.
This means that we charge an additional 600€ for Jacuzzi´s and additional on request per swim spa as transport surcharge until further notice. This only applies to new orders from April 10, we will honor all existing orders for the agreed prices. We advise you to pass this on to the end customer.
Price will return to the old level as soon as possible.
Abc Jacuzzi Selection
Size: 210 cm x 210 cm x 95 cm
Number of Persons: 5 Persons
Total Number of Jets: 91
Including temporarily freight surchage
Size: 210 cm x 210 cm x 95 cm
Number of Persons: 5 Persons
Total Number of Jets: 52
Including temporarily freight surchage
Size: 220 cm x 220 cm x 82 cm
Number of Persons: 5 Persons
Total Number of Jets: 90
Including temporarily freight surchage
Size: 220 cm x 220 cm x 82 cm
Number of Persons: 6 Persons
Total Number of Jets: 80
Including temporarily freight surchage
Size: 214 cm x 214 cm x 82 cm
Number of Persons: 6 Persons
Total Number of Jets: 75
Including temporarily freight surchage
Pure Collection
Size: 254 cm x 204 cm x 85 cm
Number of Persons: 6 Persons
Total Number of Jets: 62
Including temporarily freight surchage
Size: 208 cm x 155 cm x 83 cm
Number of Persons: 3 Persons
Total Number of Jets: 40
Including temporarily freight surchage
Size: 204 cm x 204 cm x 90 cm
Number of Persons: 7 Persons
Total Number of Jets: 40
Including temporarily freight surchage
Size: 208 cm x 208 cm x 76 cm
Number of Persons: 5 Persons
Total Number of Jets: 20
Including temporarily freight surchage
Size: 204 cm x 204 cm x 85 cm
Number of Persons: 5 Persons
Total Number of Jets: 36
Including temporarily freight surchage
Size: 204 cm x 204 cm x 85 cm
Number of Persons: 5 Persons
Total Number of Jets: 34
Including temporarily freight surchage
Signature Collection
Size: 213 cm x 213 cm x 91 cm
Number of Persons: 5 Persons
Total Number of Jets: 58
Including temporarily freight surchage
Size: 226 cm x 226 cm x 91 cm
Number of Persons: 7 Persons
Total Number of Jets: 70
Including temporarily freight surchage
Size: 274 cm x 228 cm x 91 cm
Number of Persons: 6 Persons
Total Number of Jets: 69
Including temporarily freight surchage
Size: 225 cm x 100 cm x 80 cm
Number of Persons: 2 Persons
Total Number of Jets: 22
Including temporarily freight surchage
Size: 215 cm x 200 cm x 91 cm
Number of Persons: 5 Persons
Total Number of Jets: 56
Including temporarily freight surchage
Size: 213 cm x 213 cm x 91 cm
Number of Persons: 5 Persons
Total Number of Jets: 60
Including temporarily freight surchage
Size: 213 cm x 165 cm x 83 cm
Number of Persons: 3 Persons
Total Number of Jets: 52
Including temporarily freight surchage
Size: 230 cm x 230 cm x 91 cm
Number of Persons: 6 Persons
Total Number of Jets: 60
Including temporarily freight surchage
Exclusive Collection
Size: 305 cm x 228 cm x 91 cm
Number of Persons: 7 Persons
Total Number of Jets: 150
Including temporarily freight surchage
Size: 380 cm x 228 cm x 116 cm
Number of Persons: 9 Persons
Total Number of Jets: 135
Including temporarily freight surchage
Size: 230 cm x 230 cm x 91 cm
Number of Persons: 4 Persons
Total Number of Jets: 95
Including temporarily freight surchage
Size: 213 cm x 213 cm x 91 cm
Number of Persons: 5 Persons
Total Number of Jets: 70
Including temporarily freight surchage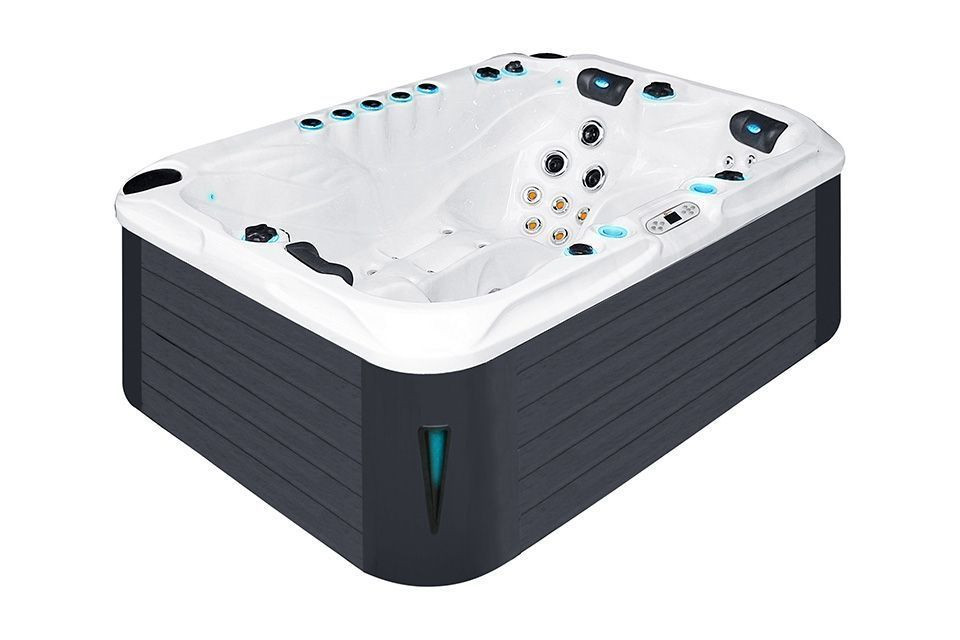 Size: 230 cm x 155 cm x 91 cm
Number of Persons: 3 Persons
Total Number of Jets: 60
Including temporarily freight surchage
Modern Collection
Size: 210 cm x 110 cm x 79 cm
Number of Persons: 2 Persons
Total Number of Jets: 20
Including temporarily freight surchage
Size: 210 cm x 130 cm x 81 cm
Number of Persons: 3 Persons
Total Number of Jets: 32
Including temporarily freight surchage
Size: 210 cm x 190 cm x 85 cm
Number of Persons: 5 Persons
Total Number of Jets: 24
Including temporarily freight surchage
Size: 243 cm x 224 cm x 93 cm
Number of Persons: 6 Persons
Total Number of Jets: 48
Including temporarily freight surchage
Sport- and Fitness Collection
Size: 708 cm x 225 cm x 126 cm
Number of Persons: 8 Persons
Total Number of Jets: 70
Including temporarily freight surchage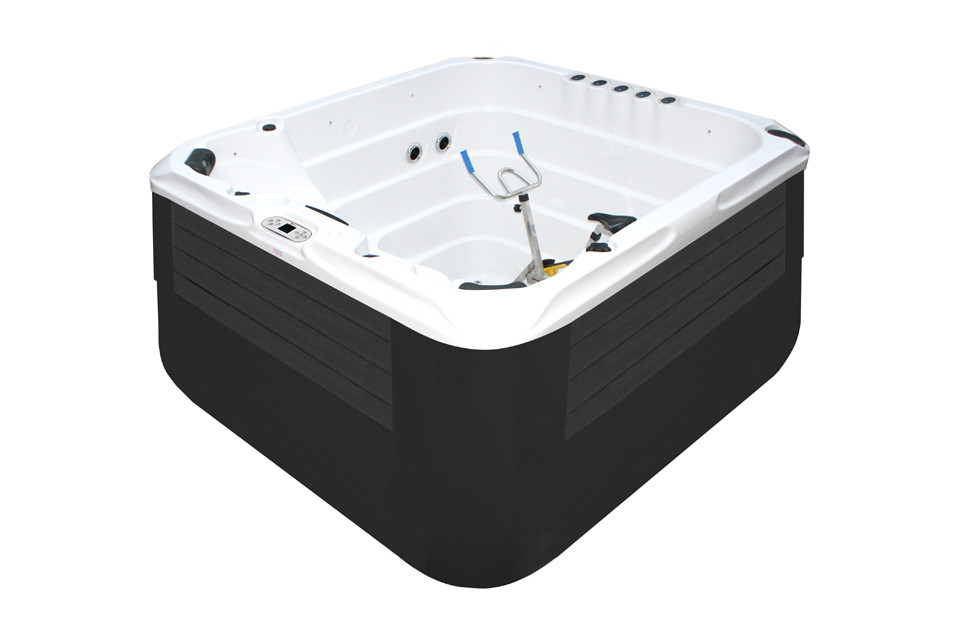 Spa Exercise-Safety Grip Shell with Grey
Size: 250 cm x 226 cm x 165 cm
Number of Persons: 3 Persons
Total Number of Jets: 32
Including temporarily freight surchage
Size: 590 cm x 227 cm x 155 cm
Number of Persons: 8 Persons
Total Number of Jets: 75
Including temporarily freight surchage
Size: 708 cm x 225 cm x 155 cm
Number of Persons: 8 Persons
Total Number of Jets: 70
Including temporarily freight surchage
Size: 590 cm x 227 cm x 126 cm
Number of Persons: 8 Persons
Total Number of Jets: 75
Including temporarily freight surchage
Size: 400 cm x 228 cm x 126 cm
Number of Persons: 3 Persons
Total Number of Jets: 46
Including temporarily freight surchage
Size: 600 cm x 228 cm x 126 cm
Number of Persons: 2 Persons
Total Number of Jets: 43
Including temporarily freight surchage
Size: 280 cm x 224 cm x 126 cm
Number of Persons: 8 Persons
Total Number of Jets: 79
Including temporarily freight surchage
Size: 580 cm x 224 cm x 155 cm
Number of Persons: 8 Persons
Total Number of Jets: 74
Including temporarily freight surchage
Size: 780 cm x 220 cm x 155 cm
Number of Persons: 4 Persons
Total Number of Jets: 52
Including temporarily freight surchage
Passion Swimspa Fitness 1
Size: 400 cm x 228 cm x 126 cm
Number of Persons: 1 Person
Total Number of Jets: 46
Including temporarily freight surchage
Passion Swimspa Fitness 2
Size: 500 cm x 228 cm x 126 cm
Number of Persons: 1 Person
Total Number of Jets: 6
Including temporarily freight surchage
Size: 540 cm x 228 cm x 126 cm
Number of Persons: 4 Persons
Total Number of Jets: 60
Including temporarily freight surchage
Passion Swimspa Spirit Deep
Size: 540 cm x 228 cm x 152 cm
Number of Persons: 4 Persons
Total Number of Jets: 60
Including temporarily freight surchage
Size: 720 cm x 228 cm x 128 cm
Number of Persons: 3 Persons
Total Number of Jets: 46
Including temporarily freight surchage
Passion Swimspa Energy Deep
Size: 720 cm x 228 cm x 152 cm
Number of Persons: 5 Persons
Total Number of Jets: 110
Including temporarily freight surchage